Summer 2023 Registration and Program Information
---
Registration is now open for our summer 2023 programming. We provide programming for athletes between the ages of 5 and 19.
SUMMER 2023 PROGRAM AND FEE SUMMARY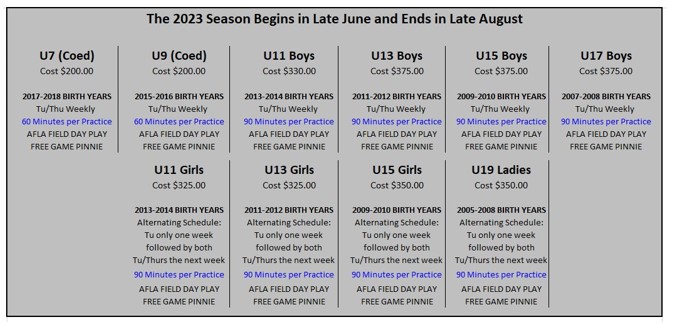 PRACTICE DAYS, TIMES AND LOCATION
Practices for all age divisions will take place on Tuesday and Thursday evenings. Practices will run for 60-90 minutes depending on the division of play.
The earliest practice slot will begin at 6:00 PM. Practice will conclude at 9:00 PM at the latest. Information on specific practice times for each division of play will be released in June.
Athletes in our U7, U9, U11 Boys, U13 Boys, U15 Boys and U17 Boys' divisions will practice twice per week.
Athletes in our U11 Girls, U13 Girls, U15 Girls and U19 Ladies will follow an alternating week schedule where they will practice on Tuesdays one week, and both Tuesdays and Thursdays the alternating week.
All practices are scheduled for the Turf Training Centre 4, 1030 34 Ave, Nisku, AB T9E 1E7. There is ample free parking at the TTC-4, washrooms, a concession and dressing rooms.
AGE DIVISIONS - 2023 REGISTRATION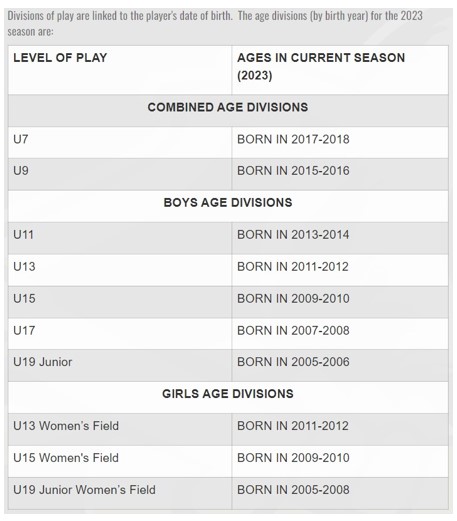 NOTE: Our U7 and U9 programming is co-ed (male and female) and will focus on basic skill development in terms of ball handling, proper form and technique and having fun. Players (male and female) in the U7 and U9 divisions will play men's field with full equipment and a men's box lacrosse stick.